first report from BELT ROAD FORUM (BRF) Biejing 14-15 May 2017 rsvp chris.macrae@yahoo.co.uk valuetrue youth reporters agency
– THE MOST VALUABLE IDEA HUMANITY WILL EVER FIND
You can search for synonyms Friends of China's leader Xi Jinping now associate with BRF such as:
The Century's Most Exiting and Collaborative Project
Globalization 2.0 – ie mapping globalization so that ever human being starting with the most disconnected has a chance to win-win-win
We recommend the half of the world aged under 30 –and teachers everywhere - call this the most valuable idea humanity will ever find- indeed the only idea that can be connected in time for their generation to celebrate being the sustainability (goals) generation
Let us be clear- any exciting market idea compounds opportunities and threats due to issues of ownership. So what made Beijing's inaugural BRF 14-15 May 2017 so heartwarming was 2000 leading decision makers and several hundred press were asked to brainstorm what needs to be done so that Belts and Roads are mapped to celebrate opportunities transparently, and to consider turning places caught up in conflicts into possibly peaceful opportunities for their peoples
1.3 billion Chinese people including half a billion Chinese Youth should be confident in their good fortune that Xi Jinping is both a joyfully spirited storyteller and brilliant at leading open processes where over 2000 powerful influencers brainstorm hopefully with each other.
Valuetrue associates are concerned with all youth livelihoods – so we dream that one day all youth will be free to love Xi's vision too.
Xi's story of the ancient Silk Road focuses on celebrating the merchants a millennium or tow ago who actioned the trading routes from Venice to China overland by camel as well as through maritime endeavors. The future history that Jinping asks every educator and leader to cross-examine is that civilization grew as trading routes opened up exchanges between more and more peoples. Open governance was needed all along the overland silk road to keep the road safe for merchants to serve as well as an open source (free market route across a third of the world's waistline) that no place tried to take over.
While the 21st trading belt-roads start with mapping infrastructure, their opportunity of never becoming geopolitical footballs is to linkin every ground up human exchange that can be linked in as soon as the idea of a new route component is voiced.
Case Study 1
The Longest Railway in the World
If you want to trade something between China and Madrid, you could send it expensively by plane. The plane trip would take 12 hours; customs and other services at both local ends might make delivery within 72 hour commercially practical to promise. Until recently your other practical alternative was to ship the produce making a commercially contractable service nearly 40 days. The longest railway in the world between Yiwu in China and Madrid in Spain now offers an attractive in between service where the trip takes 18 days terminus to terminus making a commercial contract of about 20 days possible.
This case poses 2 immediate questions: is the end to end delivery channel economic? , and are there other value multipliers all along this belt?. Critical to understanding this case is that almost no new railway needed investing in – the main innovation involved a "train-relay": working out how to transfer containers quickly everywhere along this belt where a country used a different railway track guage. So:
Yes: the overall 20 day delivery service between China and Spain is economic - its cheerful for small and medium enterprise who can newly thrive by connecting trades between Spain with China.
Yes: all along this belt other nations' poples are now twinned in new trading possibilities.
If one web site could start by mapping new belts as simple as Yiwu-Madrid, we assume that such a collaborative resource will empowers the sort of bottom up small enterprise free trades that pose no geopolitical threat. Moreover, digital ecommerce webs additional huge value multipliers round Belt Cases as the year long B20 report to China G20 in 2016 has clarified.

Thanks to the world's first Belt Road Forum (Beijing May 2017) citizens and vilagesr all round the world can look at researching such simple cases as the longest railway in the world for every kind of people exchange they can co-create. For example what sorts of education and language exchanges can this multiply among under 30s all the way along the belt. And as we build these people to people dialogues, lets discuss green energy, artistic and other ideas that most impact communal progress in interlocal sustainability.

Now engineers tell us that one day supertrains may be able to travel at up to 3000 km per hour. In other words, in the future a huge geopolitical bet may revolve round connecting the planet's longest overland railway journey in 5 hours. NO worries: whether there is an economic or political case for the world's fastest transcontinental railway isn't what the sustainability generation need to action network now .

THE FIRST LESSON VALUING YOUTH CAN CELEBRATE FROM BELT ROAD FORUM

Yes we can imagine the world's biggest decision makers will need to work out super-transparent geo-political and investment process for what may become the century's most extraordinary belts. But for now what we hope Beijing in May 2017 proved is that every country (including the 29 national leaders who turned up live) can open source a map of belts and raids that are immediate opportunities for peoples and small enterprises to thrive through trading goods and building cultural trust with neighbours across the world's continental landmasses.
Xiaoming, the veteran Chinese diplomat who is ambassador to the United Kingdom, told China Daily in an exclusive interview he was "deeply impressed" by the strong support shown by many British friends for the China-proposed Belt and Road Initiative – a blueprint initiated by President Xi Jinping in 2013.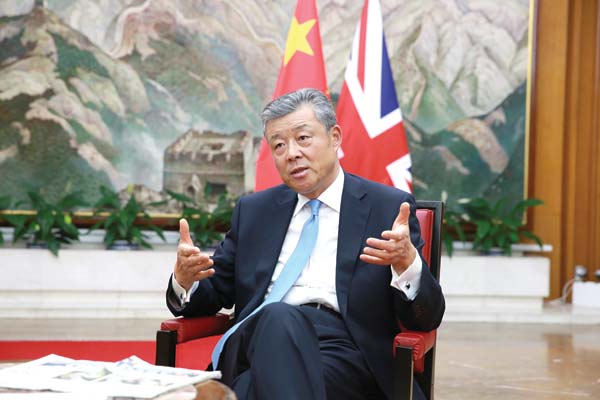 Chinese ambassador to the United Kingdom Liu Xiaoming receives an exclusive interview with China Daily. [Photo/China Daily]
"The UK was the first major Western power to join as a full member of the Asian Infrastructure Investment Bank and the second contributor after China to inject capital into the AIIB special fund. These moves speak to Britain's entrepreneurship, of daring to take the lead, and Britain's farsightedness and truly global vision.
"They also reflect the vigorous momentum of the win-win cooperation between China and Great Britain," he said.
The initiative is a modern version of the ancient Silk Road that linked China and Europe at the time of Marco Polo, the Italian explorer and trader who exploited the route in the 13th and early 14th centuries.
Xi's proposal consists of land and maritime links connecting China with the rest of Eurasia and beyond.
The AIIB is a central part of the plan.
"I believe that, with the concerted efforts of China and the UK, our cooperation on the Belt and Road will go a long way and deliver more benefits to the people of our two nations," Liu said.
UK Chancellor Philip Hammond will attend the upcoming Belt and Road Forum in Beijing as a personal envoy of Prime Minister Theresa May, who has told the Chinese authorities she strongly supports the initiative.
"This provides a valuable opportunity for China-UK cooperation on the Belt and Road," he said. "At present, China and Britain are working together to advance projects in the field of nuclear power, high-speed railways, infrastructure etc."
The ambassador said he believes the forum, which is set for Sunday and Monday, will facilitate stronger synergy between respective development strategies, "which will help unleash the potential in bilateral investment, trade and forecast, and give rise to tangible outcomes of China-UK cooperation on the Belt and Road".
Liu dismissed suggestions that the UK will miss out because it is not directly on the proposed route from China.
"Not long ago, China Railway Express made the return trip between Yiwu and London. This was the very first time China-UK trade was completely connected by land transportation. It also means China Railway Express has completed its 'last mile' and has extended the Belt and Road to the very Western point. This is a landmark event," Liu said.
One apparent tangible by-product of the Belt and Road Initiative is a plan by a Chinese developer to construct 15,000 affordable homes in the Dagenham area of East London, not far from the arrival point of the China Railway Express service.
The ambassador stressed that Britain's role in the Belt and Road plan is not limited by geography.
"For example, the UK has an advanced and international financial sector, and mature professional service industries in law and consulting. These are what countries along the Belt and Road routes need for setting up financial service platforms and improving legal systems.
"The UK also has prestigious think tanks and education institutions, and world-class R&D and innovation capabilities. These are all intellectual resources to support the Belt and Road projects," he said.
Addressing the broader issue of China-UK relations, the ambassador, who moved to the UK in 2010, said relations could not be swayed by a single incident.
"Last year, Britain voted to leave the European Union and the government went through a reshuffle. But developing positive ties with China remains the consensus of all British political parties," he said. "Next month, there will be a general election in the UK. Whatever the result will be, I believe the China-UK relationship in the 'golden era' will continue to deepen. In a world of uncertainties, the sound bilateral relationship between our two countries will always be a certainty."
Contact the reporters at liwensha@chinadaily.com.cn and chris@mail.chinadailyuk.com